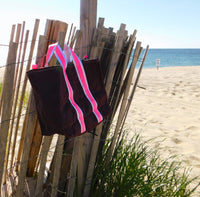 The Pink Boat Tote
This bag is meant to be used, and lived in - toted around from car to beach to woods to boat to house and everywhere in between. Take this stylish yet rugged little tote with you for all of your outdoor adventures.
Shop Here
About Fauve Life
Who, What, Where, When & Why
Fauve Life was founded by Ivy Bowne in 2017. Currently working from her studio in NJ, she works to create beautiful handmade products that embody a bright, colorful lifestyle with luxurious touches.

Living by the beach has always been apart of her lifestyle and creating products that emulate that, has been a longtime dream.

Exclusively sold online all of the products on FL are all handmade and one of a kind.